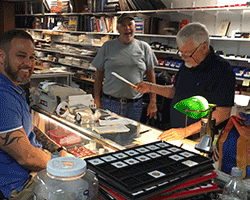 Herb moved to Port Charlotte in 1975 and established his first coin shop in town. As the shop has grown over the last thirty some years the location has moved a few times to the largest shop yet at 2348 Harbor Blvd. This website is new otherwise, hundreds of testimonials attesting to Herb's honesty and fair practices would be posted. When it comes to a fair deal Herb's shop has the best reputation bar none!
Happy Customers
We strongly value the satisfaction of our customers. Be it our online patrons on our eBay store or our walk-in friends, Herb assures a trustworthy experience. We have a large happy and returning clientele. Herb's Coins has received an A+ accreditation grade from the Better Business Bureau (BBB), which includes a "commitment to make a good faith effort to resolve any consumer complaints."
Call us at (941) 629-5777 for a Free Appraisal!
Articles About Herbs Coin shop
Herb's Coins adds silver and gold trading to existing collectibles