Sell Herb Your Entire Coin Collection For Top Dollar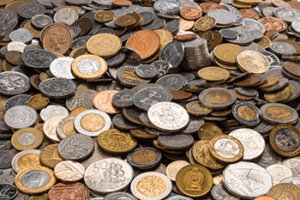 If you are looking to sell your coin collection you have several options where to go:
1. Coin Auctions may seem like the easiest way to sell your coins because you simply ship your collection to an auction house and wait 6 months or longer to receive a check in the mail. However, the vast majority of coins and other items sold at public auctions sell for only a fraction of their retail value. Moreover, most auction houses subject you to a 20-30% buyer's premium, including a seller's fee of at least 10%. So, for example, if you have a coin with a retail value of $1000, you have already lost at least $300 on that single coin. Because auction houses do not guarantee that your coins will sell for any particular price, or sell whatsoever for that matter, you are at their mercy. Just like most retail markets, the market for coins can change over a period of time, such as the 6 month time period between when you send your coins to the auction house and when (or if) they sell. You are entitled to set reserve prices on your coins, but half of these will not sell at auction due to the nature of public auctions as previously described.
2. Other local coin shops or gold/silver buyers typically pay even less because of the low volume of coins with which they deal, unlike Herb's Coin Shop. Gold and silver buyers will typically pay you only the value of the precious metals or less. Unlike other local coin shops that might want to purchase only part of your collection, we want to buy your entire collection!
3. Weekend coin shows might seem like a great alternative, but keep in mind that you must carry your entire collection with you, and that this could prove to be very unsafe. Once there, you are still not guaranteed to sell any of your coins for a fair price, and then you are forced to take most of your collection back home.
4. Try selling on eBay without much luck unless you already have a strong reputation and flawless feedback scores through your eBay store. This can become a full-time job as you must package coins, make countless trips to the post office, and handle every customer service issue. Once you allocate all of this time towards selling your coins, it is unlikely that you will be making more than a few dollars per hour of work. This can be extremely frustrating.
5. Sell your entire coin collection to Herb's Coin Shop! We pay top dollar for your coins and want to purchase all of them, not just a select few. Due to the boundless online marketplace in which we sell most of our coins coupled with our impeccable online reputation, we are able to pay you the most for your coins. Herb's Coin Shop has been in business for 40 years, and we pride ourselves on customer service. Come check out our store and have a free consultation regarding the prices of your coins because we would love to buy them ALL!