We buy scrap gold and silver

Scrap Metal
Sell your old unwanted gold and silver jewelry and much more, and be clutter free. Herb will assess your items for free and ensure maximum payment. We are not looking for high profit margins. We send our scrap metal straight to melt. Herb's Coins operates on a large volume, therefore we are able to pass on the best rates to you. Customer satisfaction is our top priority.
Is it Valuable?
Yes, they say "All that shines is not gold" but do not throw anything away before getting it appraised at Herb's. There are some easy ways to start de-cluttering. Take a magnet (a fridge magnet will work, but stronger the better) and try and attract the metal item. If it sticks, then it is probably not one of the precious metals: Gold, Silver, and Platinum, but if it does not then there is a chance that you have a hidden treasure. At any cost, even your items with magnetism, such as items made of Iron, Nickel, and Copper maybe worth money for other historical reasons as a collectible. So simply bring it in for a free appraisal today.
Why sell your old jewelry?
Unmatched earrings, missing stones, broken, mangled, or bent chains, can make your gold and silver jewelry unusable, and expensive to repair. Old fashioned and outdated estate jewelry or silverware may not get used often and collect dust, and take up space. If they are of little or no sentimental value to you why not convert them to cash, and get the most value for those forgotten and unwanted pieces. Bring them to Herb's Coins and we will evaluate the karat content or the fineness for free and pay you the exact appraised price.
Scrap Gold
We buy scrap gold including, but not limited to rings, chains, earrings, dental gold, and pocket watches. We also buy white gold. We test the gold content and our offer is based on that day's market price. Pure gold contains 24 karats, but is too malleable (soft) to make jewelry, so it is mixed with other metals to make jewelry, watches etc. Higher the karat content, higher the price. .999 is pure gold. Look for markings on your items; they usually indicate karat content. Some common karat markings visible on a gold item are 9 (9/24), present in mostly European items, 10, 12, 14, 16, 18, 22. The last one with 22 karat gold marking usually comes from Middle East and Asian countries. You may also find markings with percentage, such as 333(8 Kt), 417 (a 10 Kt), 585(14Kt) or 750 (18 Kt). Dental gold usually contains 12 to 20 kt, so do not throw away an old filling or tooth, it just might earn you some cash. Many of our customers are other local dealers. They come to us, because they trust us, and so can you!
Sterling Silver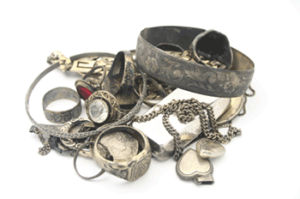 We buy all sterling silver items, and not just jewelry. If you have silverware, plates, bowls, candlesticks, trays, tea sets, salt shakers, etc, unused, unmatched, bring it to Herb's. Look for the 925, silver sterling mark on your item. If you are unsure of its value bring it to us, and we will ensure the best melt down price. 925 or .925 is the mark of sterling or pure silver. This distinguishes it from items that are silver-plated, or have less silver content. Pure silver can be melted easily and therefore fetch higher price value for your items. Many European sterling, especially British, is hallmarked, that is a stamp with its city of manufacture, such as a leopard head or anchor; the purity of sterling, stamped with a lion with a raised paw; and the year of manufacture with a letter. French sterling has a higher content, 950 and is generally marked with the content percentage and/or with a hallmark of Minerva's head. Many countries, such as Indonesia and India, may not always stamp the usual .925, but it does not mean it is not sterling, so if you are unsure of your tarnished, old, and darkened items, bring it to Herb's and we will appraise it for you free of charge.
Scrap Platinum
Platinum is a rare and valuable metal, sometimes even more than gold. Do not let your scrap platinum go to waste. We buy all platinum jewelry such as earrings, chains, rings etc. Platinum looks similar to silver, so beware of being cheated out of the true value of your items. Herb guarantees reliability and honesty, and pays according to the metal's purity. If you are trying to identify if your item is platinum or not, you can start with the simple shine test; platinum never looses its white sheen, and therefore is growing as the popular metal for engagement and wedding rings. Platinum items usually will carry a mark PT, PLAT, or PLATINON. It will also have content marked such as 950 indicating 950 parts per 1,000, a mark of pure platinum. European, especially British Platinum has other hallmarks similar to British sterling silver. In the US some platinum items may also contain other metals such as Iridium, Palladium, Ruthenium, Rhodium, and Osmium, they all form part of the Platinum Group of Metals or PGM. If other metals from PGM, other than platinum are added, the content of each should be engraved, such as 600Pt. 350 Ir. We will be most happy to explain the markings and hallmarks.
Start looking through your jewelry box, cabinets, and drawers, treasure awaits you!